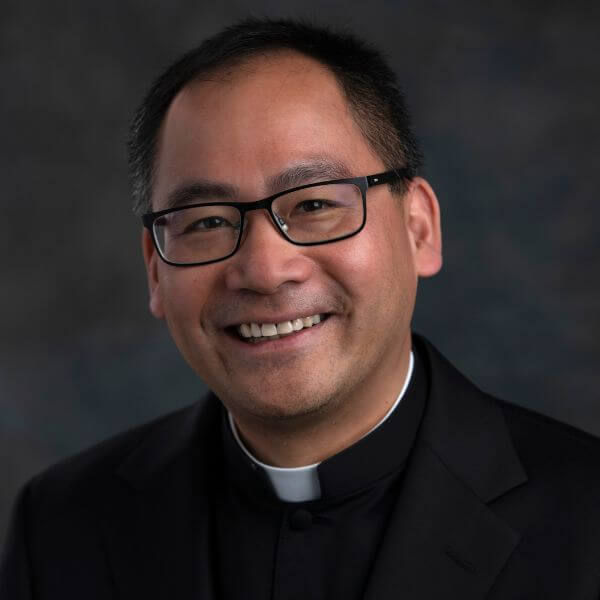 Pastor
Reverend Father Lam T. Le was born in Vietnam and lived there for sixteen years. Together with his family, he immigrated to the United States and settled in Holland, Michigan in May, 1991.
He received his high school education from Holland High School. During his high school years, he experienced more deeply God's calling toward the priesthood and decided to respond to the Lord's invitation by entering the program of priestly formation of the Diocese of Grand Rapids.
He began his priestly formation in the fall of 1995 at the Christopher House and pursued his first two years of undergraduate studies at Aquinas College with a major in mathematics. He then completed a Bachelor's Degree and a Master's Degree in Philosophy at the Catholic University of America in Washington, D.C. While in DC, he continued his priestly formation at Theological College, the University's seminary, under the care of the Priests of the Society of Saint Sulpice.
During the Great Jubilee 2000, he was sent to Rome to complete the final step in preparation for the priesthood. While in Rome, he lived at the Pontifical North American College, the American Catholic Seminary in Rome and pursued his theological studies at Pontifical Gregorian University and was awarded with a Licentiate in Sacred Theology. He was ordained to the transitional deaconate on July 12, 2003 at his home parish, St. Francis de Sales in Holland, Michigan, by then Coadjutor Bishop Kevin M. Britt. Then on July 10, 2004, he was ordained a priest, at the Cathedral of St. Andrew, by the Most Reverend Robert J. Rose, Bishop Emeritus of Grand Rapids.
Shortly after his priestly ordination, he was appointed the Parochial Vicar at Holy Family Parish in Caledonia, Michigan. Effective July 1, 2006, he was appointed Pastor of St. Mary Parish and St. Paul Campus Parish in Big Rapids, Michigan. Then on April 17, 2013, Most Reverend Walter A. Hurley appointed him as Pastor of the newly-established St. John Paul II Parish.
Besides being a pastor, Father Le is an Adjunct Assistant Professor of Theology in the Department of Theology at Aquinas College in Grand Rapids, Michigan.   He is currently a candidate of a Degree of Doctorate in Sacred Theology from University of Saint Mary of the Lake in Mundeline, IL.  In addition to his academic research, Father Le has an interest in outdoor activities.  In the summer of 2008, he joined the Mecosta County Fair Celebrity Horse Race in raising funds for St. Mary Catholic School; and in the winter of 2013, he participated in the Polar Plunge at Chippewa Lake to raise funds for Special Olympics. He contributes frequently to the local newspaper on the religion section of the newspaper.