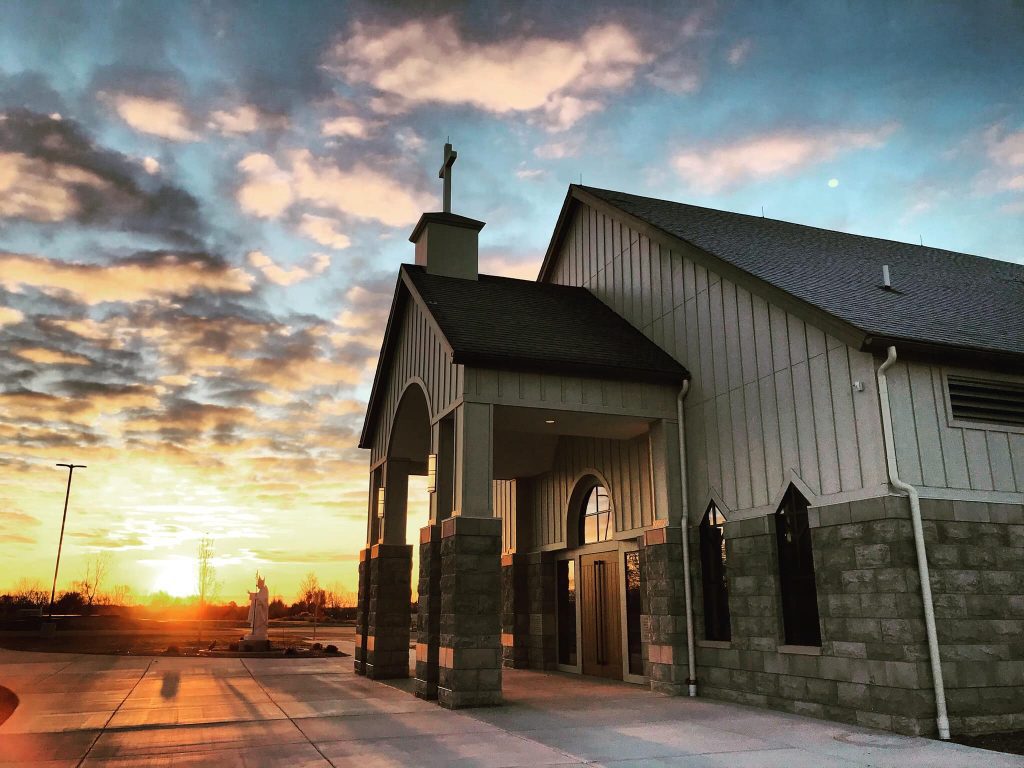 After consulting with the pastoral councils of Mary Queen of Apostles Parish, Sand Lake (MQA) and Saint John Paul II Parish, Cedar Springs (SJP2) our new Weekend Mass Schedule effective, February 27 & 28, 2022, is listed below.
This Weekend Mass Schedule came about after taking many factors into consideration: First, our cluster of two parishes will not be given another priest in the near or distant future and therefore it is in the best interest of our cluster to reevaluate the Mass schedule so one priest can lawfully celebrate. Canon 905 §2 states: "If there is a shortage of priests, the local ordinary can allow priests to celebrate twice a day for a just cause, or if pastoral necessity requires it, even three times on Sundays and holy days of obligation." Although many dioceses encourage the priest to see the Saturday Mass in anticipation for the Lord's Day as part of the three Sunday Masses permitted, I follow to the letter of the law for the spiritual benefits of our cluster. Two Masses on Saturday evening in our cluster is within the provisions of Saturday, although you can attend and fulfill your Sunday obligation of attending Mass. Second, what about making use of retired priests? I recently received the list of substitute priests and noticed that it is very short! There is a reason our priests are granted senior status: mostly due to the aging process; they should be given an opportunity to serve the Lord in a way that is fitting with their health conditions. With this Weekend Mass Schedule, our Father Tony Vainavicz can assist at any Mass when he is able and does not have a heavy load on his shoulders whenever the Lord's Day comes: "I need to be there or else the people of this parish will not have Mass." We love our senior priest and want to help and encourage him to live out his vocation to his last minutes of his earthy life. There is a saying: You never retire from your vocation; you just serve the Lord in the way that is fitting with your condition.
Please know that I am looking forward to celebrating Mass for our community each day. We will soon enter Lent and it is a season of spiritual reawakening. May our families recognize the "Sunday Eucharist is the foundation and confirmation of all Christian practice" (Catechism of the Catholic Church no. 2181)! May all return to parish life with your full involvement: liturgical ministries, parish services opportunities, educational ministries, etc. One parishioners recently commented: "it seems in the upcoming days, the Church will need more evangelization." I hardly disagree! Evangelization is not just the work of the priest and the parish staff, it requires you!
As indicated in the past, SJP2 and MQA are parishes within a cluster that means on any given Sunday you are most welcome to attend Mass at any church, but use the contribution envelopes of your registered parish, and your offering will be transferred to the correct location. In this column you noted that the term "cluster" is used, see page 6 for the meaning of "cluster."
In Christ's Love,
Father Lam
frlam@jp2-mqa.org
SJP2– Saturday at 4PM & Sunday Mass at 8:30AM and 10:30AM
MQA – Saturday at 5:30PM & Sunday Mass at 7AM