Lent
Homily on the Third Sunday of Lent
March 20, 2022 Mass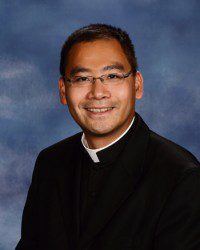 Speaker:

Fr. Lam Le
Message:
If you do not repent, you will all perish as they did! (Lk 3:3, 5)
---
At the beginning of Lent, when we go up to have ashes placed upon our head the priest said this: "Repent and believe in the Gospel." (Mk 1:15).  Thus to "repent" captures the essence of God's Lenten message to us.  The Gospel of this Third Sunday Year C reinforces the urgency of repentance.
Our Gospel passage begins with an interesting dialogue between Jesus.  Some people told him about a bloody massacre that some Galileans had suffered at the hands of Pilate. They expected the Lord to confirm their view that the Galileans had done something to deserve such a death. Jesus, however defied their expectation, telling the folks that the people who had died such an awful death would be no more sinful than themselves were. He went on to say another recent event in which a group of people had been killed when the tower of Siloam fell on them. They, too, Jesus said, would no more sinful than anyone else. Was it faulty construction and the victims were simply in the wrong place at the wrong time when tragedy struck?  After both, hearing of Pilate's atrocity and speaking of the tower of Siloam, Jesus warned his interlocutors and us as well: "But I tell you, if you do not repent, you will all perish as they did!"   (Lk 13:3,5). What is it Jesus tried to teach his audience then and us today during the Lenten season about repentance?
The word repent (in biblical Greek metanoia) has the connotation of seeing things upside down: turning away from a bad direction toward the good. So, in the two examples, Jesus asked us to see human suffering not from own view, but from God.
First, Jesus invited us to turn away the world's tendency of linking suffering as the direct punishment on sinners toward the thought of sin causes suffering. When we sin, we bring suffering upon ourselves and upon others.  To eliminate suffering that is caused by sins Jesus urged all to change their lives and live in holiness.  Why should we cause ourselves the same kind of suffering that other people have endured from Pilates's atrocities and from the falling tower?
Second, considering the First Reading, Jesus challenged us to open our horizon in confronting human sufferings.  The Old Testament passage from Exodus, recounts Moses' first encounter with the living God in the burning bush is one of the famous passages in all of scripture: In this story Holy God assured his nearness to the people in introducing himself as "I am the God of your fathers, the God of Abraham, the God of Isaac, the God of Jacob" (Ex 3:6). The transcendent God identified himself with human history.  Furthermore, as God continued his conversation with Moses: "I have witnessed the affliction of my people in Egypt and heard their cry of complaint against their slave drivers, so I know well what they are suffering. Therefore, I have come down to rescue them… and lead them… into a land flowing with milk and honey" (Ex 3: 7-8). This merciful God went very far in witnessing the suffering of His people: He sent his Son into our world.  Though innocent as he was, Jesus suffered death of the cross.  With the cross, God no longer witnessing the suffering of humanity instead God have entered the depth of our pain and hurts so that God would give us hope and life.
When we confront our own sufferings, instead of "grumble as some of" of the Israelites did on their journey through the desert and they "suffered death by the destroyer" (1Cor 10:10) in our Second Reading, from St. Paul's First Letter to the Corinthians, we should recall how our God is so merciful in sending Jesus into our world to suffer with and for us. True repentance, in case of suffering, is uniting our own to Christ for our own sanctification and transformation of the world.
May the Lord bless us on the repentant journey! Amen.
Scriptural Readings: Reading I Ex 3:1-8a, 13-15; Responsorial Psalm Ps 103: 1-2, 3-4, 6-7, 8, 11 Reading II 1 Cor 10:1-6, 10-12 Verse Before the Gospel Mt 4:17; Gospel Lk 13:1-9