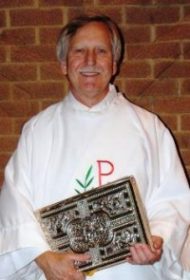 Deacon
Deacon John attended St. Thomas the Apostle and Catholic Central High School in Grand Rapids. He received his degree in Social Science Pre-Law at Michigan State University.
John has an extensive business background and has owned three businesses. In 1989, a business venture led him to Traverse City where he resided until 2010. He is currently employed by the United States Treasury.
Throughout his life, he felt a strong calling to serve God and His Church. While living in the Gaylord Diocese, he received his deaconal training and was ordained in 2008. Outside his liturgical roles as Deacon, John has provided extensive service in jail ministry, pre-cana and baptism class preparation.
Deacon John and his wife, Dawn, currently live in Sand Lake, MI. They have five children and ten grandchildren.